Sage can be used to study elementary and advanced, pure and applied mathematics.
Databases For Mathematics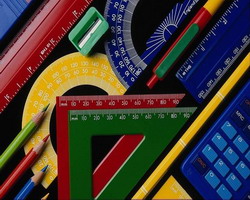 Academic Search Complete - EBSCO
Database Subject Coverage
Equations
Logic and Analysis
Mathematics Magazine
Teaching Mathematics
Business Source Premier - EBSCO
Database Subject Coverage
Theory
Mathematical Engineering
Programming
Database Subject Coverage
Research Library: Science and Technology- ProQuest
Database Subject Coverage
Mathematics- Subject Guide
In This Guide You Will Find:
This subject guide focuses on information and resources related to mathematics. You will find links to online research databases and print resources related to math, resources recommended by a librarian or professor, suggested Internet sites, featured books in our collection and more.
Finding Books and Journals
Books
Books at the Easter Library are organized according to the Library of Congress (LC) Classification system. Each call number range represents a particular subject. See below for a few examples of call number assignments for books related to mathematics. For a complete breakdown of these classes and their subcategories, please see the LC Classification link below.
QA1-939 - Mathematics

QA1-43

- General

QA47-59

- Tables

QA71-90 -

Instruments and Machines

QA101-145 - Elementary Mathematics. Arithmetic
QA150-272.5 - Algebra
QA273-280 - Probabilities. Mathematical Statistics
QA299.6-433 - Analysis
QA440-699 - Geometry. Trigonometry. Topology
QA801-939 - Analytic Mechanics

Online: You can also find a wide variety of ebooks online using EBSCO's eBook Collection.
Journals
Print:

You can find print journals by searching the online catalog or browsing the collection in the library (arranged alphabetically by title).
E-Journals:
The library subscribes and offers access to several databases that contain both citations and full-text articles for numerous journal articles. EBSCO Academic Search Complete and ProQuest offer the largest variety, covering different disciplines.
Algebra Help uses some of the latest technology to help you learn and understand algebra. This web site features lessons to learn or refresh old skills, calculators that show you how to solve problems step-by-step, and interactive worksheets to test your skills.
Useful calculators from basic, square root, scientific and Trigonometry.
e-Calculus is a Calculus I tutorial. Features include verbose discussion of topics, inline examples and exercises with solutions, multiple choice quizzes, and pop-up graphics.
A full-text searchable, comprehensive alphabetical encyclopedia of math terms, equations, and derivations, with explanations, examples, references, and much more.
An online tutorial that explores single-variable Calculus, multi-variable Calculus, linear Algebra, and differential equations.
a collection of interesting facts about math history, including biographies of famous mathematicians
This collection of Mathematics-related resources is maintained by the Florida State University Department of Mathematics as a free service to the online community.
Some people say that mathematics is the science of patterns. That's not a bad description. Not only do patterns take many forms over the range of school mathematics, they are also a unifying theme. Visit the lab and explore logic, number, and word problems.
Cindy Hyer
Contact Info
727-726-1153 ext.247
Easter Library, L116
Send Email
Specialties:
Budget and Acquisitions, Reference, Collection Development, Events and Programs, Database Searching, Writing Process and Workshops
American Mathematical Society